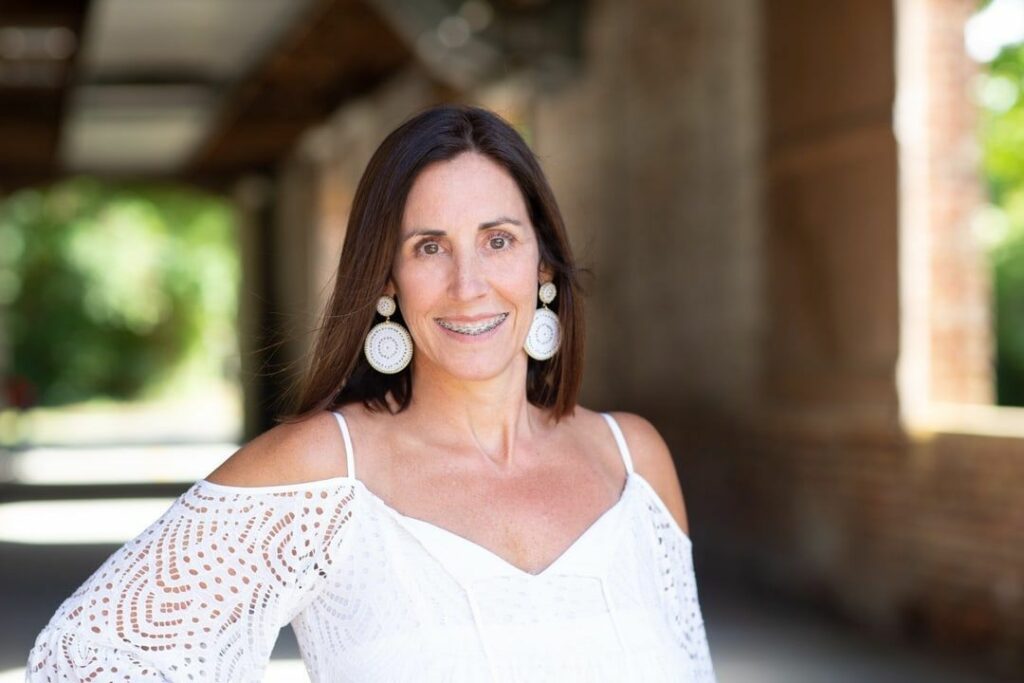 She and the Palmetto Smiles team have hundreds of hours of advanced training from the Facial Beauty Institute. Dr. Wallace is currently a certified master instructor and educator in a wide array of fields, such as Facial Beauty, Sleep Disordered Breathing, Craniofacial Pain/TMD, Facial Growth and Development, as well as cosmetic dentistry.
Dr. Jennifer Wallace grew up in Columbia, South Carolina.
She attended Clemson University, graduating in 1994 with a Bachelor of Science degree.
She then attended The Medical University of South Carolina College of Dental Medicine and graduated with a D.M.D. in 1998.

It was there that she met her husband, Dr. Aaron Sarathy, now a practicing Oral and Maxillofacial Surgeon.
While serving her country as a US Navy Dentist, she completed a residency in advanced general dentistry. After her residency in Norfolk, Virginia, Dr. Wallace was stationed abroad in Naples, Italy. From there, she was stationed at the Pentagon in Washington, DC, and spent four years there providing dental care to sailors, marines, soldiers, and airmen.
In 2006, she and her family moved to Beaufort, where, following a stint at the Marine Corps Recruit Depot, Parris Island, she opened the doors to the state-of-the-art practice, Palmetto Smiles of Beaufort.
Dr. Wallace and Dr. Sarathy have two wonderful children and greatly enjoy the Lowcountry lifestyle with all that it has to offer. As a top Beaufort general and cosmetic dentist, Dr. Wallace and her team provide top-notch quality care to her patients. She and the Palmetto Smiles team believe in the mouth-body connection and practice whole-health dentistry. Dr. Wallace trains at the renowned Las Vegas Institute of Advanced Dental Studies. It is here where she and her team keep up with the advancements in physiologic-based (TMJ) dentistry. LVI is a leading post-graduate training center for advanced cosmetic dentistry, physiologic-based TMJ therapy and treatment, and full-mouth cosmetic porcelain reconstruction.
She has advanced dental training in these areas.
Advanced Jaw Development Orthodontics
Orofacial Myofunctional Disorders (OMD) and Myofunctional Therapy
Controlled Arch Orthodontics

Full-Face Orthodontics "F2O" Physiologic Orthodontics

Practical Advanced TMD Practice – Level 2
Practical Advanced TMD Practice – Level 1
Surgery 1- Implant Foundation: Extractions, Grafting, Guided Surgery & Key Implant Restorative Fundamentals
Hygiene: Advanced Technologies
The Physiologic Approach to Treating OSA – Level 1

Core VII – Full-Mouth Reconstruction

Core VI – Coronoplasty and Case Finishing
Core V – Comprehensive Aesthetic Occlusal Reconstruction

Core IV – Advanced Principles, Case Stabilization, and Bite Transfer in the Physiologic Practice

Core III – Mastering Dynamic Adhesion in Complex Reconstructive Cases

Core II Orthotic Maintenance, Adjustment, and Essential Aesthetic Reconstructive Techniques

Core I – Advanced Functional Physiologic Dentistry
Please use the form below to request an appointment.