Beaufort cosmetic dentist Dr. Wallace can provide you with a portrait-worthy smile and restore your self-confidence. Dr. Wallace knows that getting the smile of your dreams is often a lifetime goal, and we offer many options to our patients throughout the South Carolina Lowcountry to help you achieve a healthy, natural smile.
Please preregister with our office by printing out our registration paperwork and return it to our office prior to your scheduled appointment if time permits. The paperwork can be returned to us via email, mail, or fax.  Should you have previous records you would like to forward to us, please contact your former dental office to authorize the release of records.
When can I schedule a visit?
Palmetto Smiles of Beaufort is open Monday and Wednesday from 8:00 a.m. to 5:00 p.m. and Tuesday and Thursday from 8:00 a.m. to 4:00 p.m. We will reserve your appointment as promptly as possible. If you have pain or an emergency situation, every attempt will be made to see you that day.
If your preferred appointment time is not available, we will still reserve an appointment for you, while working to get you in at your preferred time.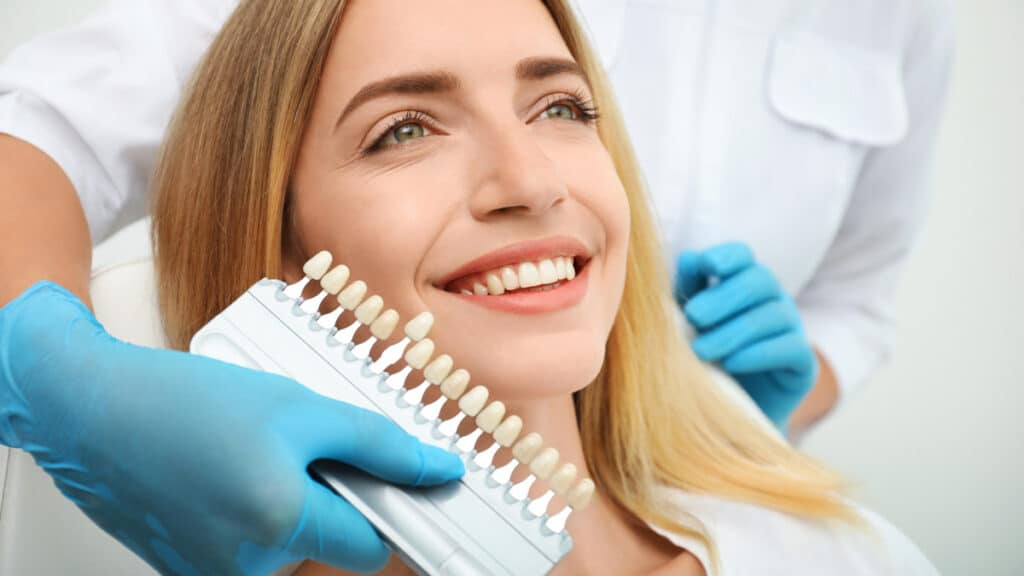 Porcelain Veneers
Porcelain veneers are a thin layer of ceramic that bond directly to the front surfaces of the teeth. They are an ideal choice for improving your smile and have become increasingly popular due to their simplicity and versatility.
Placing custom veneers requires a high degree of technical skill as well as attention to cosmetic detail. We place veneers routinely and design each case individually to match and enhance the characteristics of each patient's smile.
Dr. Jennifer Wallace will ensure that your veneers are crafted from the highest quality porcelains and are bonded with the most advanced and proven materials available.
Refraining from using your veneers as tools to open and cut things will prolong their life, and if accidental breakage or damage occurs, it is usually possible to replace only the veneer involved.


Will they look like normal teeth?
‍When bonded to the teeth, the ultra-thin porcelain veneers are virtually undetectable and highly resistant to coffee, tea, or even cigarette stains. For strength and appearance, their resemblance to healthy, white tooth enamel is unsurpassed by other restorative options.
‍How durable are porcelain veneers?
‍With proper care, porcelain veneers will brighten your smile for well over a decade.
Invisalign Clear Braces
Invisalign® aligners are nearly invisible, making them blend seamlessly with your lifestyle and interactions with others. They are removable, allowing you to eat, drink, brush, and floss without restrictions. Unlike traditional braces, Invisalign® has no metal parts that can irritate your mouth, and it requires fewer doctor visits. Invisalign® effectively corrects various orthodontic and dental problems, as proven by over a million satisfied smiles. Improving your dental issues with custom aligners can also positively impact your overall health.
Teeth Whitening with Custom Fit Trays
Having a beautiful smile may be even easier than you think. Many people achieve the look they've been dreaming of with our simple "bleaching" procedure.
What are the details of teeth whitening?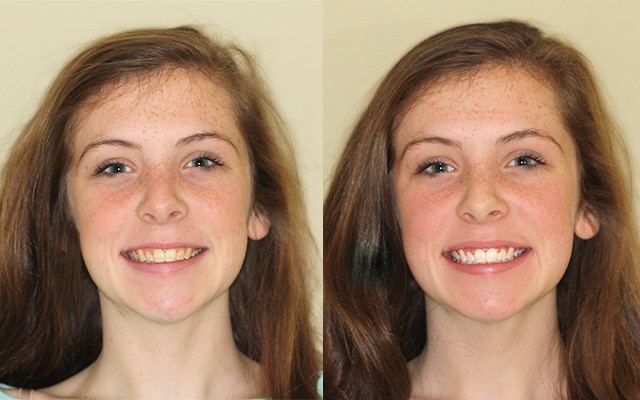 It's safe, quick, and inexpensive. Just let us know at any appointment if you would like to whiten your teeth. You can lighten only your upper teeth or both the upper and lower, depending on how much you show when you talk and smile.
In only a few days your custom bleach splints will be ready for you to pick up. We provide you with a special bleaching agent that you put into the clear splints. With only 1 hour of wear per day, our special bleaching agent bubbles stains right out of your enamel in a very short time without altering tooth structure or existing dental work in any way. When your teeth reach the desired brightness, only occasional treatment is needed to maintain your new smile. We'll want to take "after" photos at your next appointment.
Dental bleaching can be used to correct tooth discoloration. Discolorations can be caused by staining, aging, or chemical damage to teeth. Using the latest in bleaching technology, we can offer a safe method for creating a beautiful "brilliant" smile. In cases of extreme tooth discoloration, crowns or veneers may be the only choice, but because of the low cost of bleaching treatments, bleaching is nearly always worth a solid try.


Key Benefits of Teeth Whitening
Corrects brown, yellow and spotted tooth staining
Works on people of any age
Is a near-permanent solution for a "dull" smile, restoring brightness and brings a smile alive
Considerations for Teeth Whitening
Over-the-counter bleaching agents are available for purchase at drug stores and pharmacies. However, since these products can cause harm to the gums and teeth, it's better to use products that our practice recommends.
Please use the form below to request an appointment.