At Palmetto Smiles of Beaufort, we pride ourselves on providing a wide range of dental solutions that help our patients achieve excellent oral health and beautiful smiles. One of our most popular dental treatments is clear aligners in Beaufort. 
Please preregister with our office by printing out our registration paperwork and returning it to our office prior to your scheduled appointment if time permits. The paperwork can be returned to us via email, mail, or fax.  Should you have previous records you would like to forward to us, please contact your former dental office to authorize the release of records.
When can I schedule a visit?
Palmetto Smiles of Beaufort is open Monday and Wednesday from 8:00 a.m. to 5:00 p.m. and Tuesday and Thursday from 8:00 a.m. to 4:00 p.m. We will reserve your appointment as promptly as possible. If you have pain or an emergency situation, every attempt will be made to see you that day.
If your preferred appointment time is not available, we will still reserve an appointment for you, while working to get you in at your preferred time.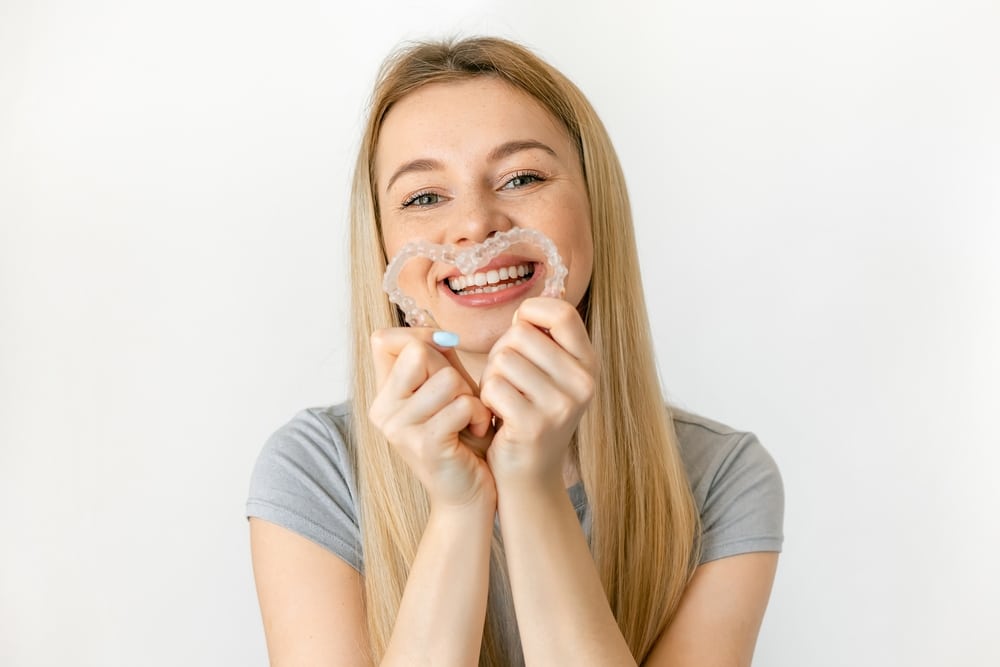 What Are Clear Aligners?
Clear aligners are a modern and innovative orthodontic solution that can help correct misaligned or crooked teeth. When it comes to orthodontic treatment, clear aligners have become a popular alternative to traditional braces, and two of the top brands on the market are Invisalign and SureSmile. Both companies offer high-quality clear aligners that will gradually shift your teeth into proper alignment. 
Invisalign and SureSmile use clear aligners and 3D imaging to custom-fit your aligners so they are comfortable to wear. 
The Benefits of Invisalign and SureSmile
Clear aligners are an excellent option for patients looking for a discrete and effective way to improve their smile.
Clear Aligners are Convenient
One of the most significant benefits of clear aligners is that they are highly convenient. Unlike traditional braces which require frequent adjustments and appointments, clear aligners require minimal maintenance. This means you can enjoy the benefits of orthodontic treatment without taking too much time out of your busy schedule for regular appointments. Clear aligners are easily removable, which makes it easy to maintain proper oral hygiene and complete normal activities such as eating, brushing teeth, or flossing.
Clear Aligners are Comfortable
Traditional braces often cause discomfort or pressure in the mouth, especially during the early stages of treatment. However, clear aligners are custom-made to fit your teeth perfectly and are more comfortable to wear. They are smooth and lightweight, so you won't have to deal with bulky brackets or wires that could irritate your cheeks or gums. Clear aligners also do not require any painful adjustments, meaning you can maintain your orthodontic treatment with minimal discomfort.
Clear Aligners Offer Discreet Treatment
People who need braces often shy away from them because of their visible nature. Clear aligners, on the other hand, offer a discreet orthodontic treatment option. They are made from transparent plastic material, which makes them practically invisible when worn. This makes clear aligners an excellent option for patients who want an aesthetic, non-invasive way to improve their smile.
Clear Aligners Help Improve Oral Health
Misaligned teeth not only affect your smile but also your overall oral health. Crooked teeth trap bacteria and food particles, leading to plaque buildup, gum disease, bad breath, and other dental issues. Clear aligners can help correct these problems by straightening your teeth and reducing the risk of dental complications. By wearing clear aligners, you can improve oral health and maintain healthy teeth and gums for a lifetime.
Clear Aligners Help Boost Self-Confidence
Crooked teeth or visible braces can make a person feel self-conscious and impact their confidence. By choosing clear aligners, you can straighten your teeth and achieve a beautiful, healthy smile, boosting self-confidence. Clear aligners offer a discreet way to address orthodontic issues without feeling embarrassed or anxious, allowing you to enjoy social situations even while undergoing treatment.
What to Expect When Getting Clear Aligners
During your initial consultation, Dr. Wallace will assess your dental condition and create a customized treatment plan tailored to your specific needs. A series of clear aligner trays will be designed, each slightly adjusting the position of your teeth until they align perfectly. Expect to wear these aligners for the majority of the day, removing them only when eating or brushing your teeth. With clear aligners, there's no need to worry about dietary restrictions since you can remove them during meals. Regular check-ups will ensure your progress is on track, and adjustments to your treatment plan can be made if necessary. Throughout the process, you'll witness gradual improvements in your smile, enhancing confidence and a more comfortable bite.
Clear Aligners in Beaufort, South Carolina
Clear aligners are an excellent orthodontic solution for patients of all ages who want to improve their smiles without the restrictions that traditional braces come with. If you're looking for clear aligner treatment in the Beaufort area, Palmetto Smiles of Beaufort is a top-rated provider that can help you achieve a beautiful, healthy smile. With their expertise and the latest in clear aligner technology, you can trust us to provide exceptional care and stunning results.
At Palmetto Smiles of Beaufort, Dr. Jennifer Wallace and her team will work closely with you to determine whether clear aligners are the best option for you. If you want to look into clear aligners and how they can benefit your oral health and improve your smile, contact us today and schedule a consultation.
Please use the form below to request an appointment.